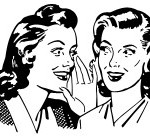 I've been in a lot of conversations lately about where to find resources for business blogs. If you're using a blog to market your own business, or are responsible for contributing to your company's website, it can be overwhelming.
What should you write about? How do you write gripping headlines? And how do you master a friendly-but-professional style – quickly?
I wrote a post on Inspiration for your business blog content a while ago, and it was popular. So here's a round up of some of my recent favourite resources for business blogging.
1. Hubspot Blog Topic Generator
Sometimes you just need a bit of inspiration for your next blog post. This blog title generator is one of my favourites. Just plug in some keywords and see what comes back – if nothing else it will spark some ideas.
2. Portent Content Idea Generator
Similar idea to HubSpot – the suggestions that are a bit more 'out there,' but might spark something a bit different.
3. Why you need to post in Google+
I have to admit I pretty much ignored Google+ until I read this tutorial from GetResponse. Guess what, Google now prefers Google+ content in searches! So now I've started posting my blog posts there too to give them a search engine boost.
4. How to make your blog posts more conversational
Does your blog sound a bit stiff and corporate? Help warm it up a bit with these 23 tips from Problogger.
5. How to edit your blog
It's really hard to edit your own work, but readers are pretty unforgiving of errors, even in friendly blogs. If you can, get someone else to check it. If that's not possible, these tips from Social Media Today will help.
6. Top 25 WordPress plugins
Useful Infographic from digital marketing expert Jeff Bullas. I already had the first four and I'd also recommend Jetpack (#7) if you have a WordPress site.
7. Grammar myths you can ignore
Some "rules" we learned at school don't translate into the blogging world (and aren't actually rules anyway, just conventions). Here's a round-up of the ones you can safely ignore in a free download from Writing With Clarity. And yes, it's OK to start a sentence with and.
8. Free screen capture software from Jing
This handy software allows you to take a picture of your computer screen (or a part of it) and highlight bits with arrows and stuff. Good for tutorials. Much easier to use than the Paint programme in Windows. You can also capture videos and drop them into your blog post.
I hope you find these useful – let me know if you do and if you have other resources to share.
Jakki
photo credit: thepeachmartini via photopin cc